THE ORGANIZATION:
APA(Amateur Music Player's Association, Japan), is a non-profit organization for amateur chamber music players, which was established in 1974. It is a nationwide network which currently consists of over 1,000 members. Among them, about 600 members are resided in Metropolitan area and 230 members are in Kansai area. More than 160 members are in other areas in Japan.
ACMP Going Places:
ACMP started an organization called IAC(International Ambassador Council)to promote international exchange of amateur players since last year. To cope with visitors' request from abroad, APA has provided a contact point which coordinate with registered players in Japan; apa.goingplaces@gmail.com (K. Yoshida)
Please also refer to our Facebook: APA-Going Places
In April we had a first visitor to APA from USA who enjoyed playing chamber music with APA members. Here is her report:
INTERNATIONAL EVENTS: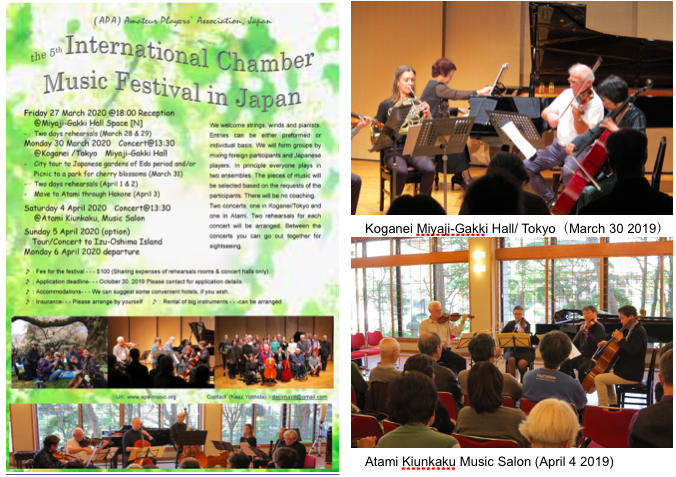 APA will organize the 5th International Chamber Music Festival in March/April 2020. In year 2019 there were 13 players from Europe, USA, Honk Kong and Singapore including several ACMP members. It was an 11 days event including an optional concert tour to Izu-Oshima Island on the last day. In year 2020 we will have two concerts in Koganei Tokyo and Atami Shizuoka after two days rehearsals each. The optional tour concert to Izu-Oshima Island in Sagami Bay will also be arranged.

● The 5th International Chamber Music Festival was canceled due to outbreak of COVID19.
We welcome strings, winds and pianists eligible for performing chamber music with two days rehearsals prior to the concerts. Entries can be either preformed or individual basis. We will form groups by mixing foreign participants and Japanese players. In principle everyone plays in two ensembles. The music will be selected based on requests of the participants. There will be no coaching and no solo performance arranged in principle.
During the rehearsals we had a picnic to Koganei Park for watching cherry blossoms in 2109. On the way to Atami we had a tour to Hakone by train, rope way, cable car and pirate ship in Lake Ashinoko.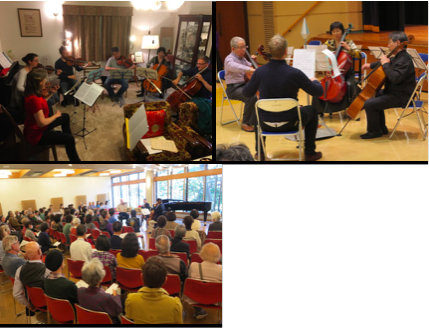 Rentals of big instruments such as a double base and cello will be arranged.
Schedules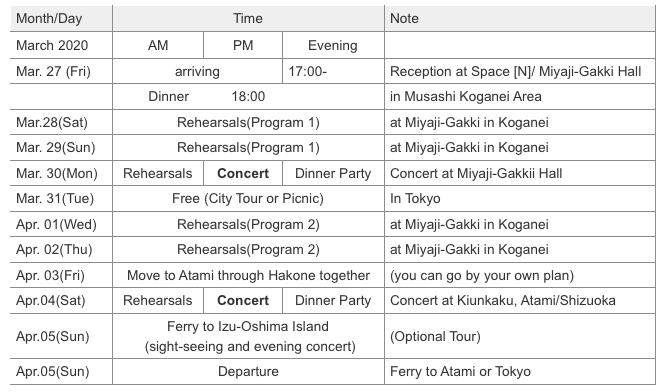 Miyaji-Gakki (former Koganei Civic Center) is located in front of JR Musashi-Koganei Station (at South Exit), which is about 17km west of Shinjuku Terminal, or 23km west of Tokyo or 35min. by JR (Japan Railway) from Tokyo Central Station.
Atami is a hot-spa seaside resort, about 100km south-west from Tokyo and around 50 min. from Tokyo Station by Shinkansen (the bullet train).
From Atami Station you can go to other cities by Shinkansen easily. We can arrange to keep your belongings during your journey in Japan if you wish.
JR Pass is a convenient travel ticket for foreign tourists.
Concert Style
The concerts at Koganei in Tokyo on March 30th Monday and in Atami on April 4th Saturday will be from 14pm to 17pm, performed by preformed or mixed groups with Japanese players.
Two days rehearsals will be provided for each concert. Music for mixed groups will be arranged according to participants' requests in principle.
It can be a whole or partial movements depending on nos. of programs.
The concerts will be publically announced and we expect full audience in the hall or at least we try to fill up the hall.
In the past there were always more than 100 audiences.
Expenses
In Principal, the cost for rehearsal rooms / concert halls will be evenly shared by all participants. A small amount of other expenses such as printing and advertisements will be added on top. Actual participation fee will be announced after all the bookings/arrangements are made. For your information, fees for the concerts and rehearsals will be around $100 depending on the nos. of participants. Accommodation, meals, insurance and transportation costs etc. are not included.
The dinner parties after the concerts will be at cost and it is about $35 per person. So far it is not possible to offer you a lump sum cost for this festival.
For the transportation to Atami, we utilized public transportations including cable car/rope way and pirate ship to go across the lake last year or we shall try to set up private cars of Japanese participants and will share the actual costs. A city tour to central Tokyo or picnic will be arranged and it will be at cost.
Accommodations
We recommend you to arrange your accommodation by yourself. In the past many participants used airbnbs. We can assist upon your request of the location, preference and period. The following are the hotels in our neighborhood.
In Tokyo;
a: Hotel METS,
b: Citytel Musashisakai,
Both hotels are located next to JR Musashisakai Station. Koganei Miyaji-Gakki Hall at Musashi-Koganei Station is about 5min. (2nd station beyond) by JR Line. 
c: Tachikawa Washington Hotel
d. Smile Hotel Asagaya
In Atami City;
Ito-en Hotel, Toyoko-Inn etc.
Registration
Application deadline is 30 October, 2019, but the final group formation will be made in December.
If you prefer to join only one concert either in Tokyo or Atami, please indicate it in your registration.
//////Entry Form/////
Name: Mr./Mrs.... If you come with your partner, please write her/his name here...
City / Country...
Instrument...
Years of experience...
Music of preference (for the concert)...
Day City tour Yes/No...
Your travel plan / expected itinerary in Japan (arrival and departure date)...
Other request & message...
Contact
Kazumichi (Kaaz) Yoshida, director International Contacts, APA Japan
Japanese Ambassador of the IAC (International Advisory Council) of ACMP
FaceBook : Kaaz Yoshida & APA-Going Places
e-mail: decimaint@gmail.com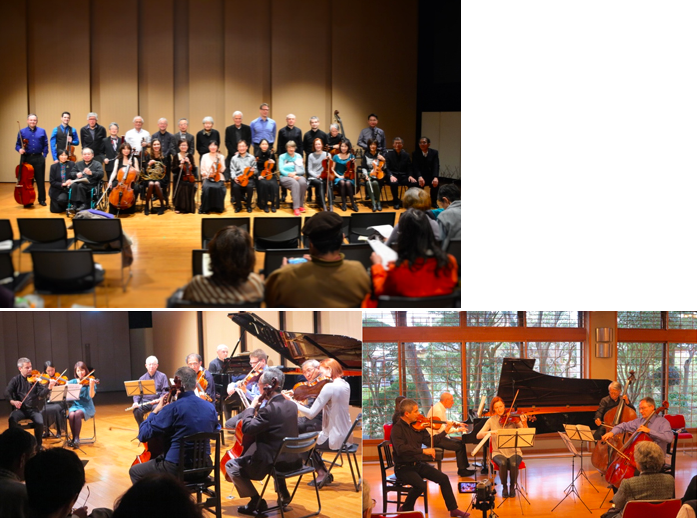 Response from participants
- Having safely arrived at Kyoto, I am thinking of how nice and exciting it was to participate in your festival. I already feel like slightly advanced into Japanese customs.(R.V.)

- We only can express our admiration of what you have created. The APA-festival was wonderful planned and executed. I for myself would be glad if there will take place a similar event next year, and perhaps I will be enabled to participate for the second time to play again in this wonderful milieu??!(G.D.)

- Thank you very much for a wonderful time in Japan! I am already excited (rather prematurely) about coming back and doing it all again! Please keep me informed about future opportunities (J.K.)

- It was a wonderful experience for me and a good reason to finally visit Japan.(M.P.)

- For me and my wife the eight days in Japan were absolutely fantastic. We enjoyed very much the company of your fellow-musicians. It gave us a very special window for observing Japan. (W.H.)
♪Photos of the festival 2019
Photos of the festival 2019
Records from the past concerts
-
Concerts in Koganei and Atami
-
Dinner parties and sightseeing

PARTICIPATION IN OUR LOCAL MEETINGS
There are Regular Meetings for chamber music all over Japan. For instance there are more than 20 groups organizing regular meetings once or twice a month within metropolitan area. If you have a chance to visit Japan for tourism or on business and wish to join and enjoy ensembles during your stay, please contact K. Yoshida, director international contacts. apa.chuosen@gmail.com.
We can arrange your participation in meetings at your convenient locations and possibly arrange the instruments for your participations.
Name

Regular date

Place

Contact person

<Tokyo area>

2nd Sun.13-17pm

Ohizumi-Gakuen
(Seibu-line)

Mr. Hideki Isochi

2. Saitama Meeting

3rd Sat or Sun 13-17pm

Urawa

Mr. Kuniyuki Goto

3. Saitama appoint-

ment Meeting

4th Sunday 13-17pm

Yono-Honcho(JR)

Ms. Megumi Yanagawa

4. Den-en Toshi Meeting

3rd or 4th Sun 13-17pm

Aobadai(Tokyu line)

Mr. Tohro Iozawa

last Sat13-21pm

Okurayama(Tokyu line)

Mr. Takashi Arai

6. Shonan Meeting

2nd or 3rd Sat 13-17pm

Ofuna (JR)

Mr. Shinji Matsumoto

7. Kashiwa Meeting

3rd Sun 13-18pm

Shin-kashiwa(Tobu line)

Mr. Nobuo Usuda

8. Katsushika Meeting

2nd or 3rd Sat 13-17pm

Aoto(Keisei line)

Mr.Takunobu Yamashita

9.Chuosen Meeting

1st Sat or Sun 13-17pm

Musashi-Koganei

Mr. Kazumichi Yoshida

1st Fri 13-17pm

Tamagawa-Jyosui(Seibu-Haijima Line)

Mr.Katsumi Yanagi

1st Thurs 11am-17pm

Old Olympic Center Reh-room(Sangu-bashi)

Mr. Seiichi Yaguchi

Holiday or Sun 13-18

APA club room

(Shinjuku)

Ms. Yoko Toyoshima

13.Tuesday Meeting

Every Tue 13-17pm

ditto

Ms. Tomoko Moriya

14.Flute Meeting

1st Sun 13-18pm

ditto

Mr. Susumu Mabuchi

15.String Quartet Mtg

3rd Sat 13-17pm

ditto

Mr. Shiro Kikuchi

16.Piao ensemble and vocal Mtg.

Every 6 months a year(Jan and Sep)

Ikeda Salon
Myorenji(Toyoko-line)

Ms. Kazuko Mutoh

<Nagoya area>

17.Nagoya weekend

Meeting

Holiday or Sat
12:30-18pm

Nakamura Kouen

(Higashiyama line)

Ms. Maki Mito

18.Nagoya Tuesday

Meeting

Tuesday9am-16:30

Shinsakae-machi

(Higashiyama line)

Ms. Maki Mito

<Kansai area>

19. Shukugawa weekday strings

3rd Tue 13-17pm

Shukugawa(Hankyu line)

Mr. Kyozo Makino
origami0318@yahoo.co.jp

20.Kyoto Weekday Meeting

2nd Tue 11am-17pm

Nakagyo-ku(Kyoto)

Mr. H.A.Shapiro
info@apa-music.org

21.CD grade orchestra

Sat a month 13pm-17pm

Shinkitano Rengo hall(Zyuso,Osaka)

Mr.Ryoichi Hirano

22. Keihan Meeting

Sun (4 times a year)

Hirakata(Keihan line)

Ms. Kaoru Tsujimoto

>HOME(Japanese page) > English page